Please see the attached flyer for information regarding a summer camp offered by Lowell Park Ruth Edwards Nature Center.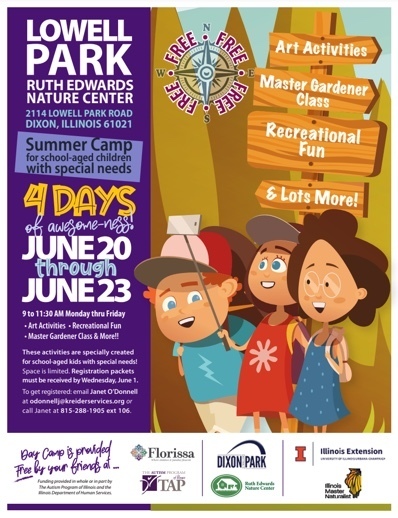 Sneak peek of Prom - Around the World! Make sure to join us tomorrow at 6pm in the Junior High Gym for Grand March!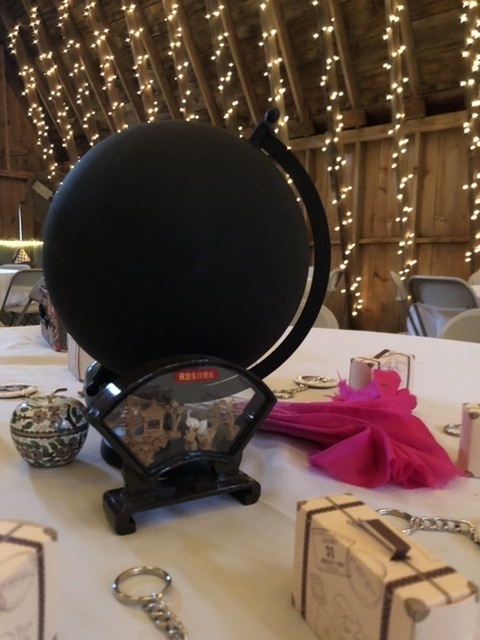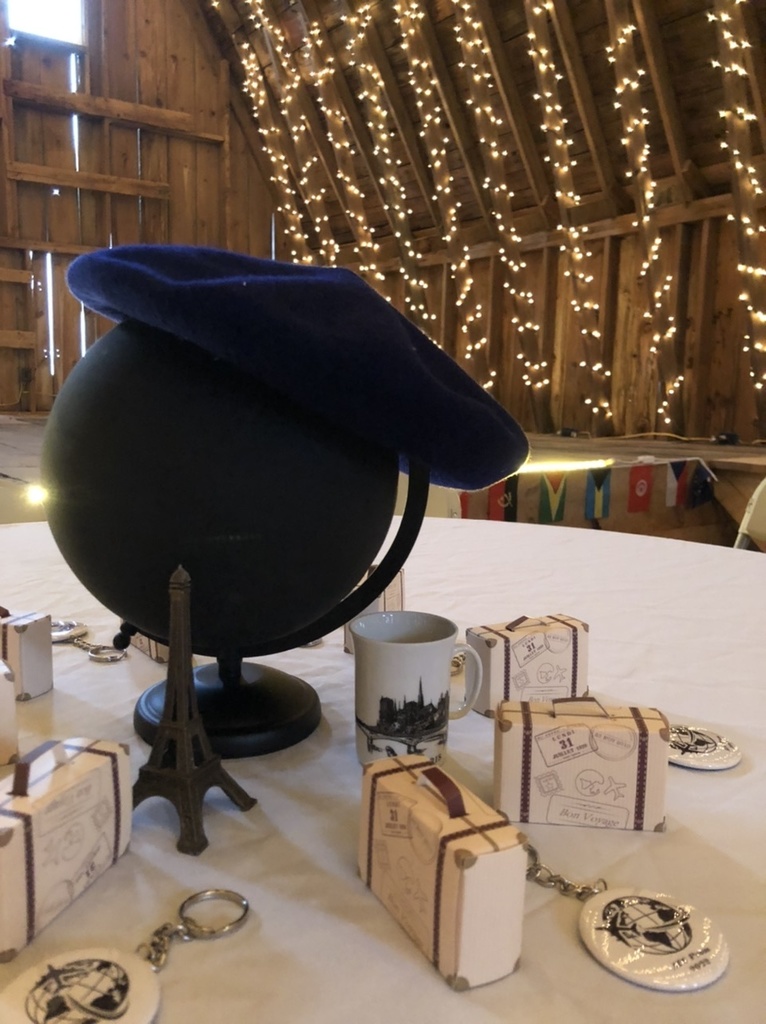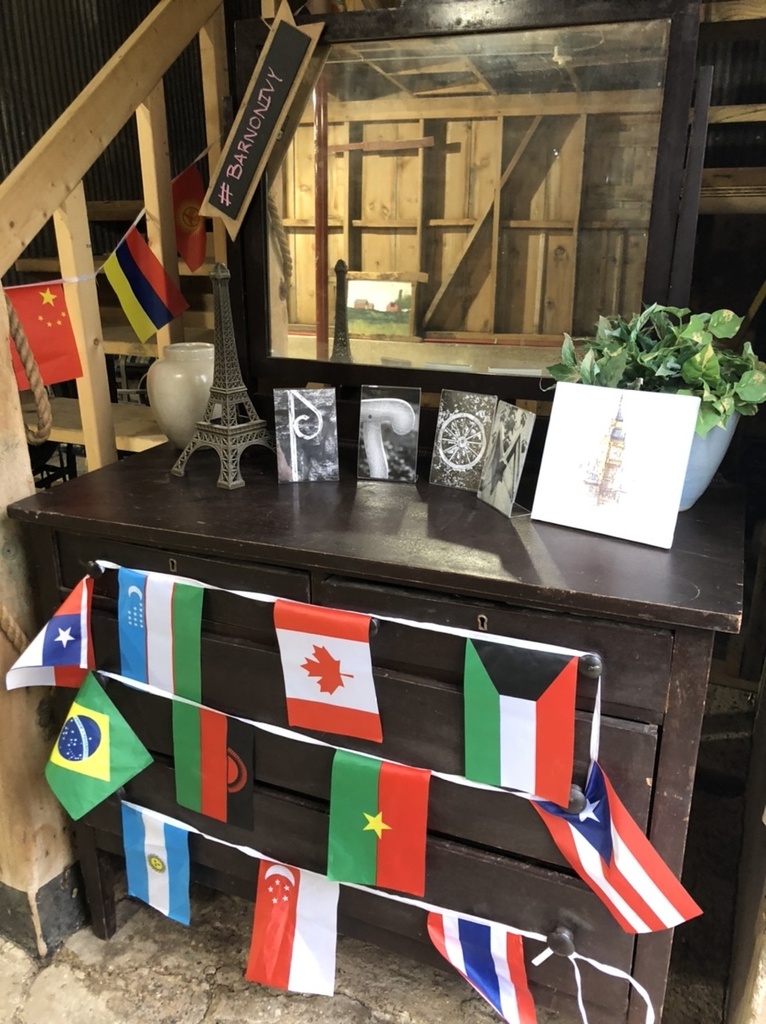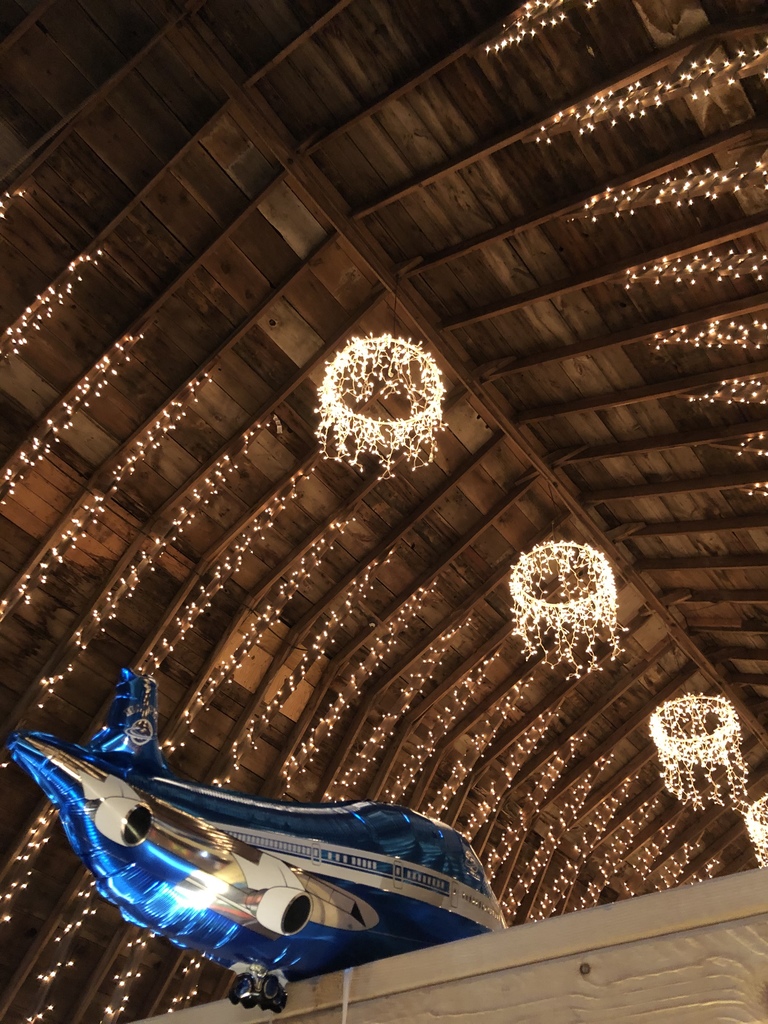 The girls track meet at Pecatonica today, 4/28, has been canceled. #AFCathlteticsandactivities

IHSA is offering a free "Officiating 101" class to anyone interested in officiating any of 16 sports that IHSA licenses. There is a shortage of officials across the board and IHSA is looking for people to get licensed. Anyone 17 or older is able to become an IHSA official. See the attached flier if interested! #AFCathleticsandactivities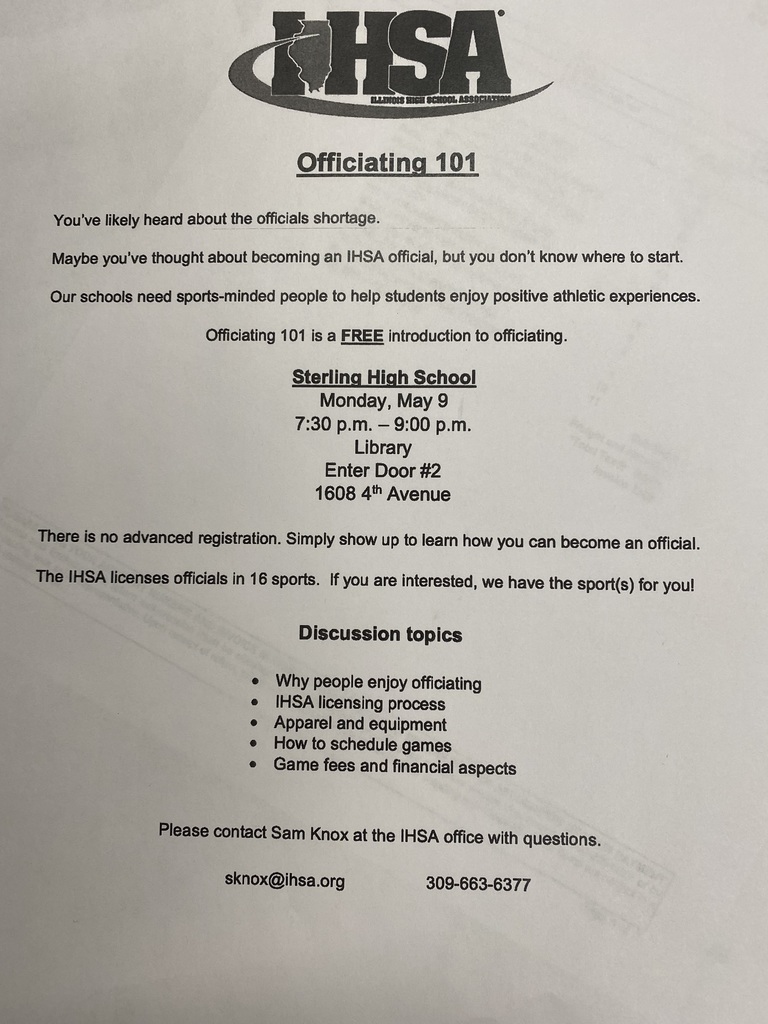 Due to a lack of a quorum, tonight's Board Of Education Meeting has been rescheduled for Monday, May 2nd 2022 at 7pm in the Junior Senior High School Library.

AFC Junior High Families, please see flyer for details on ordering a yearbook. Thank you!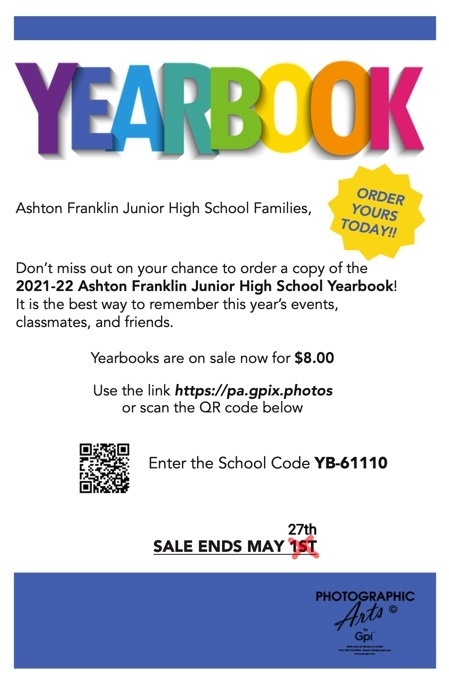 AFC Jr. Sr. High School and Elementary School are experiencing phone issues. They can not make external calls to verizon numbers today. 4/25/22

Due to unsuitable field conditions in Oregon, there will be no softball games today. Baseball is still a go with varsity playing Oregon at home at 10:00. JV will play Oregon following the varsity game. #AFCsthleticsandactivites

And here we go again! The softball and baseball games in Galena today have been canceled. The softball team plays 2 games in Oregon tomorrow beginning at 10:00. The varsity baseball team plays Oregon at home tomorrow at 10:00. The JV team will play Oregon following the varsity team. (Think it will at least be warmer tomorrow!) #AFCathleticsandactivities

Students will be bringing home two papers today regarding our PTC sponsored School's Out for Summer Bash. You can preview those two papers below. Please note, the registration form should be filled out for EACH participant. You can click the link below to find a digital version of the registration form to print if more copies are needed. We will also have extra copies available in each school's office.
https://core-docs.s3.amazonaws.com/documents/asset/uploaded_file/1827/AFC/2030135/Color_Run_Registration_Form.pdf
We are SO excited to end the school year with this new and fun family event!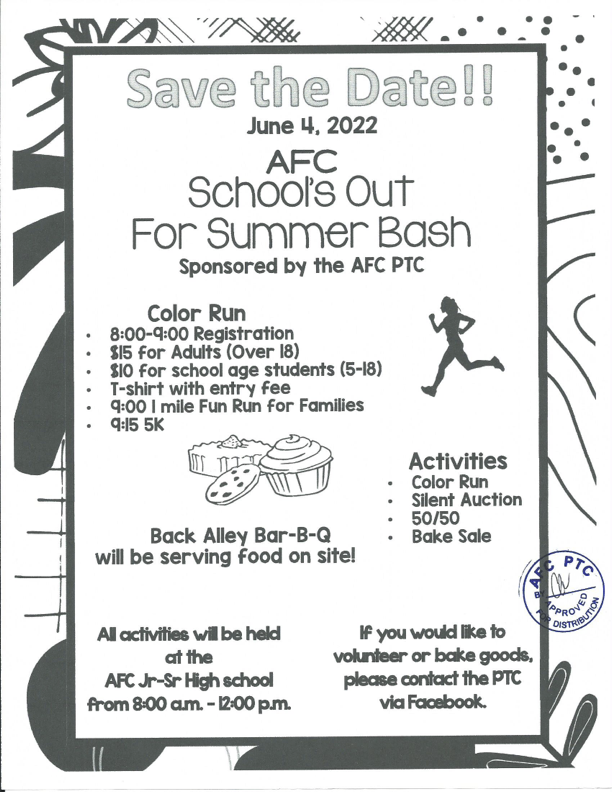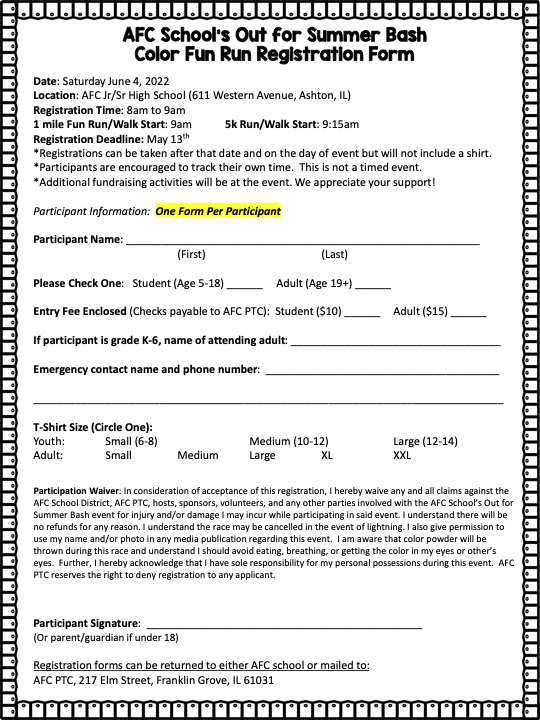 ATTENTION! CHANGE IN SCHEDULE! Due to unsuitable field conditions at the LumberKing Stadium, the varsity baseball game today has been moved to Eastland HS in Lanark and the start time is now 4:30 rather than 5:30. #AFCathleticsandactivities

Saturday's varsity baseball game against Oregon will now start at 10:00 rather than 11:00, with JV to follow. #AFCathleticsandactivities

AFC FFA sent 2 teams to the Poultry Judging Career Development Event at Sterling High School. The high school team placed 4th and consisted of Brooke Burger, Abby Milligan, Nadia Near, and Tori Miller. Abby was the 8th place individual. The middle school team placed 1st overall. Kate Viall was the 1st place individual, Jack Delhotal placed 4th, and Wyatt Kennay placed 7th. #AFCFFA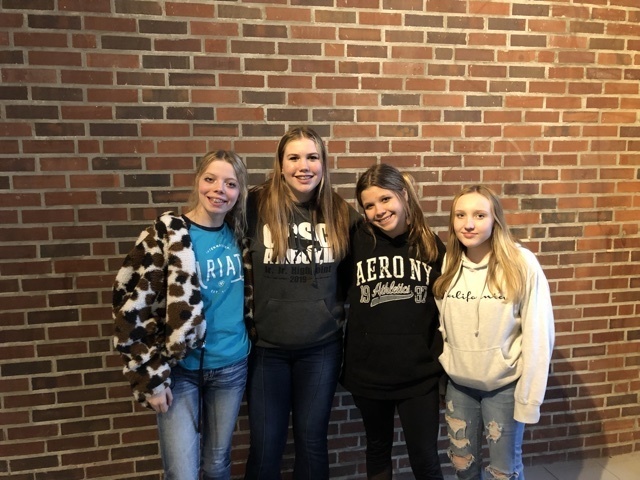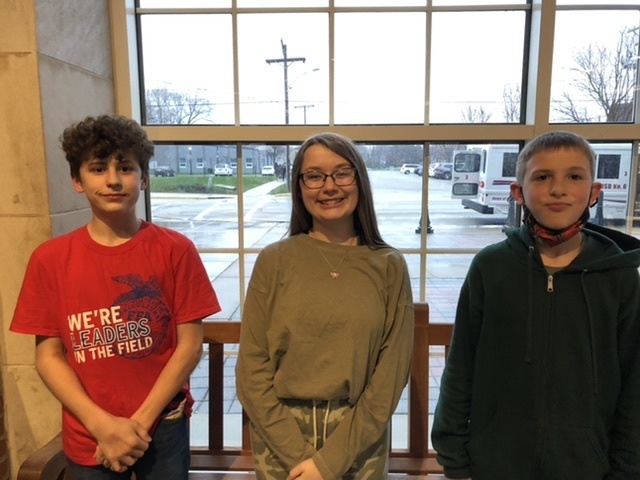 Tonight's softball game will be played at Eastland HS in Lanark at 4:30. The baseball game against Eastland will be played at LumberKing field in Clinton, IA. The address of the field is 537 Ball Park Dr, Clinton, IA. There will be no concessions available at the field, so please plan accordingly. Tomorrow's games at Galena, assuming the weather cooperates, will be played at Weinen Park. The address is 706 S Dodge St., Galena. #AFCathleticsandactivities

The AFC FFA Horticulture team placed 3rd last night at the Section 2 FFA Horticulture Career Development Event. Team members were Donivan Myler, Leah Cochrane, Gracee Holmgren, and Hailey Mallette. #AFCFFA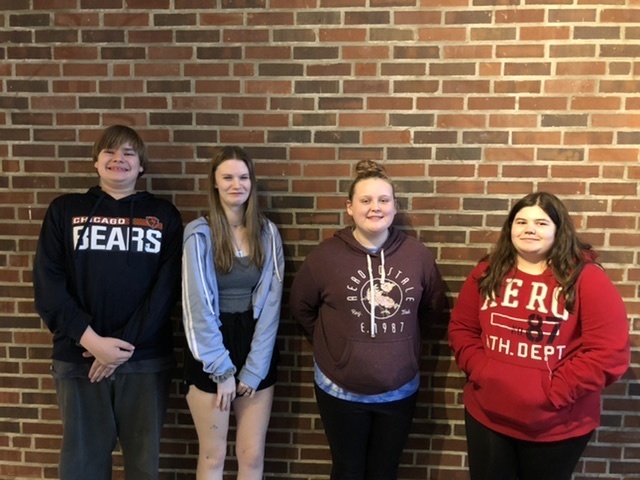 Mother Nature has done it again! Ugh! The JV baseball game against Dakota today has been canceled. #AFCathleticsandactivities
Please review the attached flyer regarding an open position at the AFC Jr/Sr High School.

Attention High School Students: We are hiring summer workers! Please see the flyer for more information.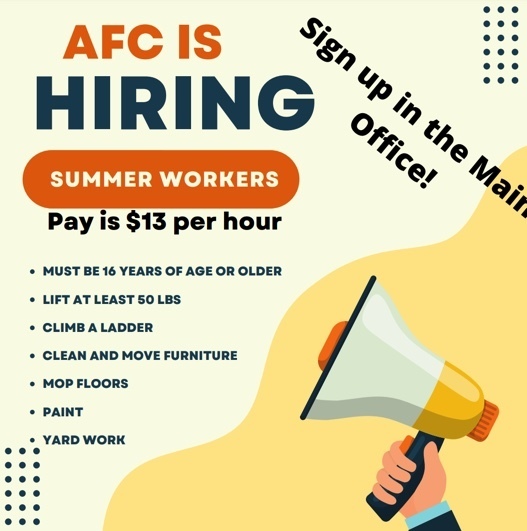 Parents, Lee County Health Department is scheduling appointments now so you can get a head start for next school year. See the flier below for more information.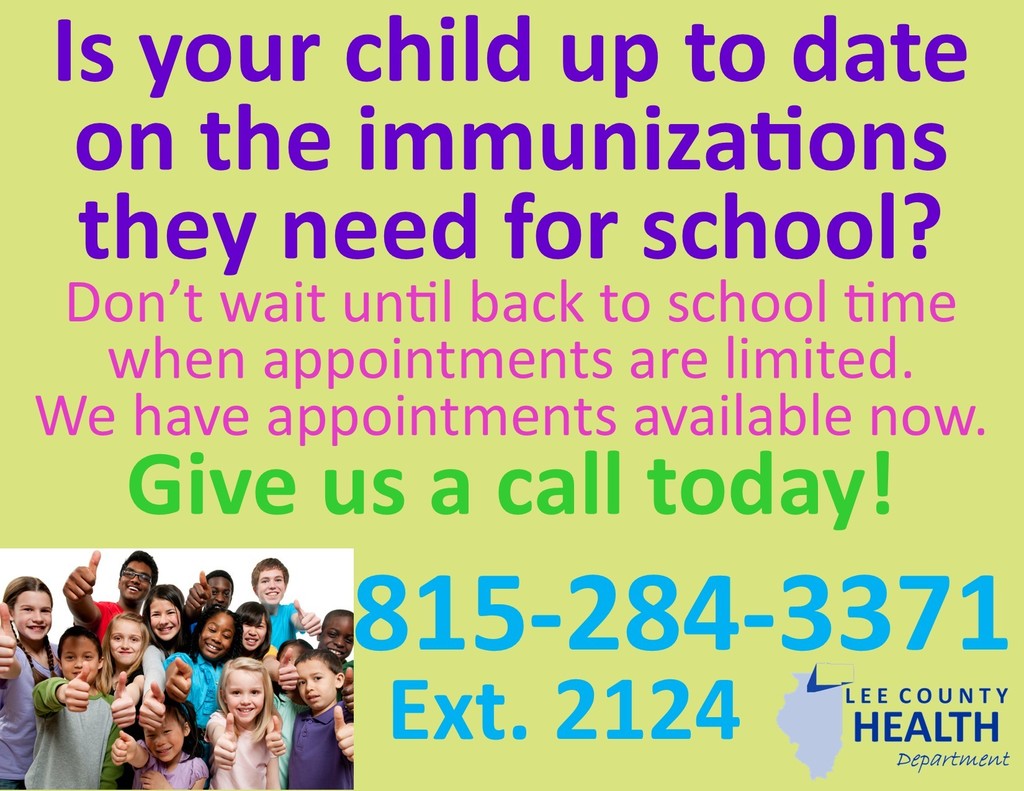 AFC FFA members in the Intro to Ag class got to test their FFA knowledge against other first year members tonight in the Greenhand Quizbowl. Team members were Caleb Thomas, Ben Clark, Barrett Becker, and Ryan Garcia. #AFCFFA