The AFC HS Football team will be playing Alden-Hebron's JV team this Friday at Alden-Hebron at 5:30. Fans are able to attend. The fans will be pre-screened upon entry and will be asked their name and school for tracking purposes. There will be an admission charge of $4/adult and $2/student. Masks and social distancing are required. Gates will open at 5:00. AFC fans will be asked to leave after the game as there is another game following involving 2 different teams. Go Raiders! #AFCathleticsandactivities

AFC is still in search of a high school track coach. Season starts in April and will run through the middle of June. If a track coach can't be found, there will not be a track team this year. If interested, please contact Traci Gittleson at
tgittleson@afcschools.net
. #AFCathleticsandactivities.

#AFCMusic Please check out our weekly newsletter! There's a link for 5th graders to explore instrument choices, an opportunity for our choirs to share music with our music friends at West Carroll Schools, and here's s sneak peek of the beautiful Ukulele Cart made by Mrs. Viall & her students!
https://www.smore.com/ksmn2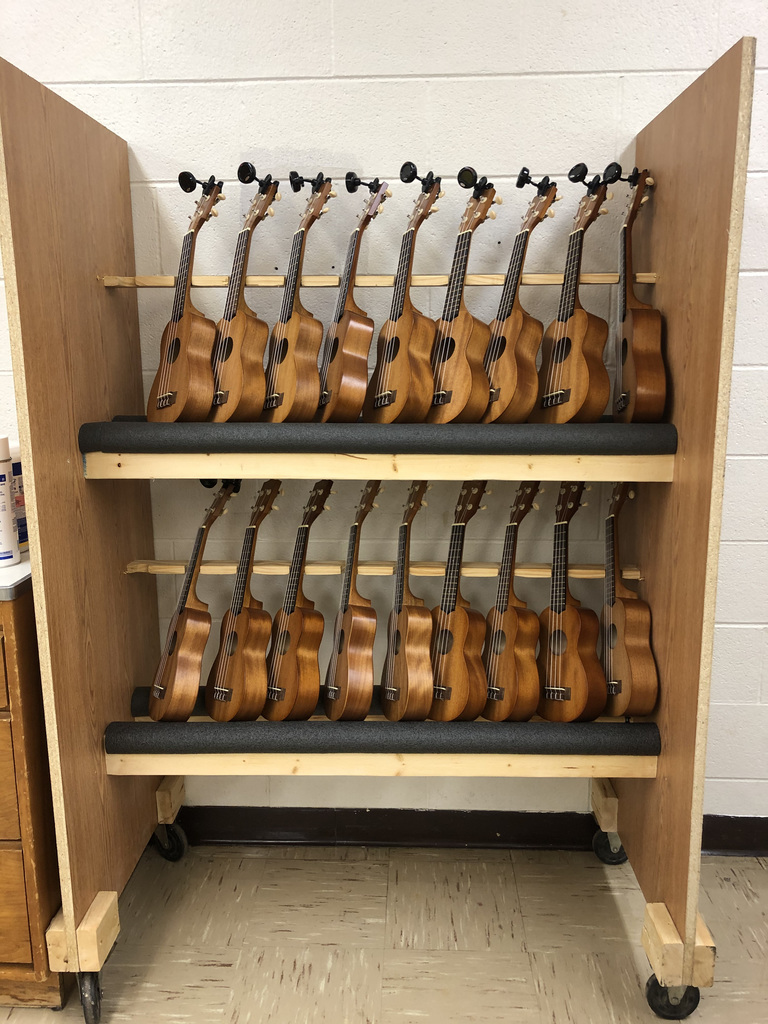 Dear AFC Families, The following is an update on our football season: Unfortunately, due to low numbers we will not be participating in the 11-man football season. Although we are not going to participate in the 11-man season we are trying to schedule 8-man football games (as you may know we are moving to 8-man football in the fall). We will update you with any developments. #AFCathleticsandactivities

Due to inclement weather, all after school activities, including practices, have been canceled for today. #AFCathleticsandactivities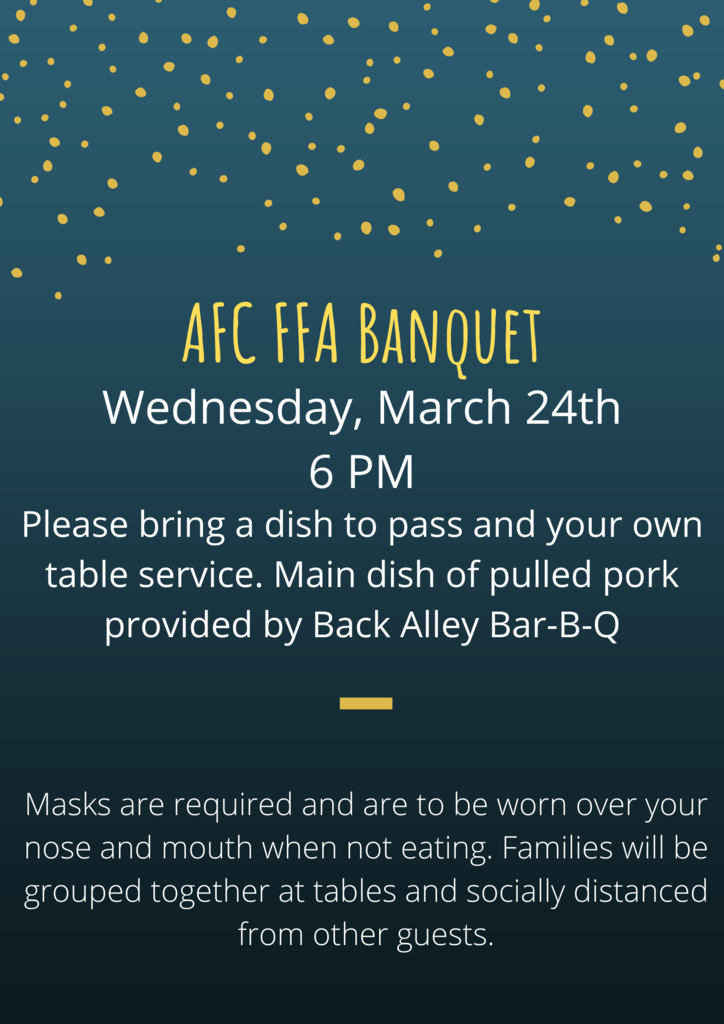 Today is the first day of the 4th Quarter! Remember that we are now in attendance Monday-Friday from 8:10-1:40 (1:53 at the JH/HS). Also, there is a 1/2 day dismissal this week on Wednesday 3/17. The elementary school will dismiss at 11:38 and the JH/HS will dismiss at 11:51.



Over the last week, the Illinois Department of Public Health and the Illinois State Board of Education have issued updated COVID-19 guidance for schools. Based on the new information from the IDPH and ISBE, I want to share several key aspects of how AFC will go forward during this rapidly evolving period of the COVID Pandemic: From the update- "Social distance for in-person learning is now defined as 3-6 feet for students and fully vaccinated staff." Additionally school symptom screenings and temperature checks are no longer required. Please continue to monitor your students for COVID-19 at home. AFC will continue to follow our 6 feet policy as we have some staff members who are not fully vaccinated and have been successful in our efforts thus far. You may have read reports in the media that the CDC released updated guidance on wearing masks. Per the CDC: "Fully vaccinated people can: Visit with other fully vaccinated people indoors without wearing masks or physical distancing. Visit with unvaccinated people from a single household who are at low risk for severe COVID-19 disease indoors without wearing masks or physical distancing. Refrain from quarantine and testing following a known exposure if asymptomatic" AFC will continue to follow our previous mask policy, regardless if you are vaccinated or not. This will continue to be our policy, because the updated guidance from IDPH and ISBE says, "All persons, including students, teachers, school nurses and other health personnel, custodial staff, public safety personnel, etc.,on the grounds of all public and nonpublic schools that serve students in prekindergarten through grade 12 must must wear a face mask at all times when in school or in transit to and from school via group conveyance..." Please feel free to contact us with any questions or concerns and we will provide updates as they occur. Best Regards, Michael Lindy, Superintendent AFC #275 Schools

#AFCMUSIC Hello AFC Music Families and all those who support our music in schools! Please follow the link to our NEW S'mores Newsletter--there's news about our HS Music Leadership Teams, a great video on how music gives your brain a workout, and a wonderful introduction from our Music Booster President, Josh Stone. Happy Music Making, Mrs. Deter
https://www.smore.com/dzr5h

The high school girls' game tonight and the high school boys' game tomorrow at Milledgeville can be viewed on the NFHS network (nfhsnetwork.com). JV games begin at 6:00. The 7th and 8th grade girls' game today will be live streamed on our You Tube channel. This can be found on afcschools.net, click on the live stream option in the upper right hand corner. Click on the You Tube option under AFCHS Sports. Note that it is under AFCHS and not AFCMS. The 7th grade game begins at 4:00 with the 8th grade to follow. #AFCathleticsandactivities

Mallory Coffman competed at Districts with her record book last night and will be moving on to State! Good luck, Mallory! #AFCFFA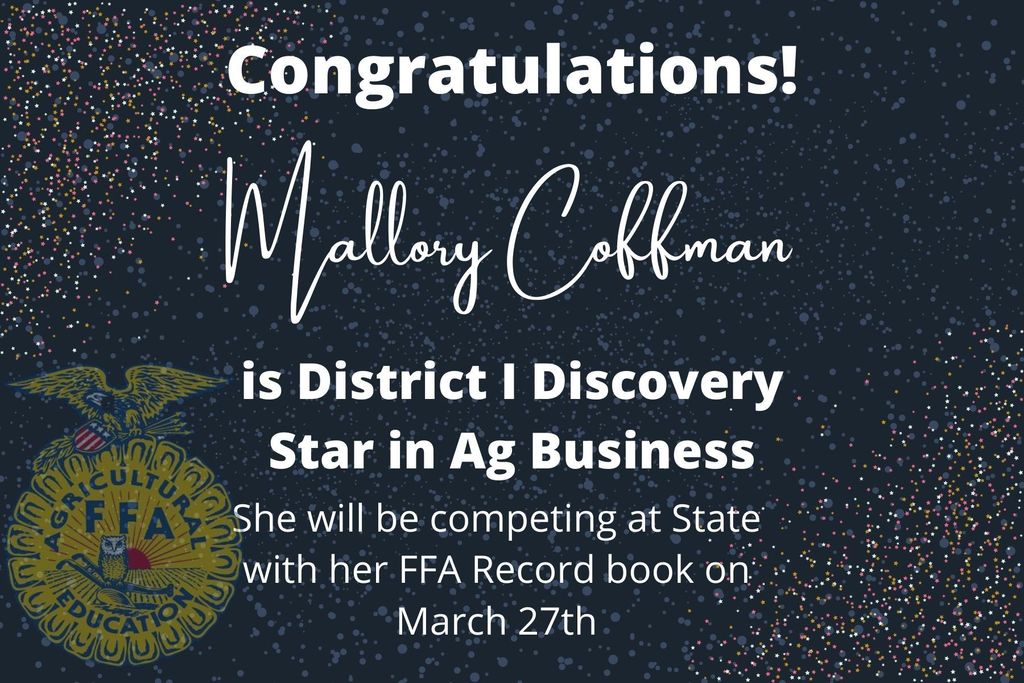 Tonight's boys and girls basketball games at South Beloit can be watched using the following link:
https://youtu.be/bvKJ7t-jISY
JV boys start at 4:30. Varsity girls will follow and varsity boys will be the last game. Tune in to watch the Raiders and Lady Raiders!


Families wishing to sign up for 100% remote learning for 4th quarter need to complete the request form by the end of the day today. Please use the link below to access the form.
https://forms.gle/GPCR3XPCNJvu6d2X8

The AFC football team is selling Fan Wear! To check out all of the items and place an order, visit: afcraidersfootball2021.itemorder.com. Spice up your Raider wardrobe and support the AFC Raider football team! #AFCathleticsandactivities

High school girls' volleyball practice will begin Monday, March 8. Practice will be 5:15-7:15 in the junior high gym. All girls who intend to play need to have an updated physical on file with Mrs. Gittleson and also registered online. The registration page can be found on afcschools.net, "athletics", "registration". If there are any questions, please contact Mrs. Gittleson at
tgittleson@afcschools.net
. #AFCathleticsandactivities